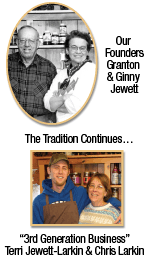 It's a surprise to many that our family does not make Cheese here on our farm. Our NY CHEDDAR is made by the McCadam Cheese Co. located in Chateguay, New York. McCadam has had many prize winning cheeses and is noted for their fine quality of cheese making.

We begin the aging process with 3 month old NY Cheddar, weighing approximately 44 lbs. per block. We then store it in our refrigerated warehouse at a constant temperature throughout the seasons, year after year. Our family has one of the largest privately owned Cheddar inventories in the Northeast--over 44,000 lbs.

You will notice a remarkable difference in FLAVOR if comparing our New York aged Cheddars to other store Cheddars. Each month of aging contributes significantly to the development of each of our "FAMILY" members character. We have named our older Cheddars after family--Grandad, Granny, Old Mac, etc. All have been aged to a distinctive fine and mellow sharpness--not bitter.